Watch Video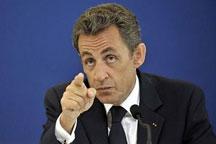 Play Video
A political storm is brewing in France as President Nicolas Sarkozy's office battles a media report he received a large cash donation during his presidential campaign.
Sarkozy is denying allegations his party received illegal campaign donations in cash from France's richest woman via the current labour minister, Eric Woerth.
Nicolas Sarkozy, French President, said, "I would so much like that our country fascinates itself for the great problems such as health, health organization, pensions, how to create growth, rather than to get carried away with the first horror, slander, which has only goal to damage without any reality whatsoever."
The allegation stems from a former bookkeeper for Liliane Bettencourt, the main shareholder in the French cosmetics giant L'Oreal.
The bookkeeper says she was involved in withdrawing 150-thousand euros in cash to be given to Woerth in unmarked envelopes as a donation to Sarkozy's 2007 election campaign.
Eric Woerth, French Labour Minister, said, "I am totally shocked by this, I have been the treasurer of my party for the past eight years, I have nothing to feel guilty about, everything is clear and neat. Despite all the gossip, I have never earned a single euro that is not legal."
The allegations sparked a political storm at the French National Assembly.
Jean-Marc Ayrault, Head of Socialist Members of Parliament, said, "What we want is the truth, and that is all, that is our message and we have been asking for it for weeks and we're still waiting for it."
French law limits donations to parties to 75-hundred euros per person per year. Only 150 euros may be given in cash.
In an effort to ease some of the pressure from this scandal, members of Sarkozy's party are urging him to bring forward a reshuffle planned for October, and broadcast it to the nation before he goes on summer holiday next week.
Related stories
Editor:Zhang Pengfei |Source: CNTV.CN