Watch Video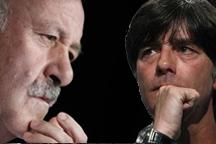 Play Video
Spain, who has never won the World Cup, has gone through final preparations on the eve of their keenly awaited semi-final clash with Germany.
Meanwhile, German head coach, Joachim Loew, says their offensive attacking style will get them through to the final. He does not plan to change a thing in the rematch of the Euro 2008 final, won by Spain.
Spain held their final training session in Durban on Tuesday, having arrived in the eastern coastal town of South Africa ahead of their semi-final clash against Germany.
The Spaniards beat Germany two years ago in Austria to win the Euro 2008 and now face the same but a resurgent and highly confident Germany at the Moses Mabhida stadium.
Vicente Del Bosque, Spain's Head Coach, said, "I think it's going to be a balanced match. They are good in the attack, there are moments when they retreat and are still able to play attacking football, they can create opportunities. They also have good individual players who are strong, so I think this is going to be a match of two strong teams."
Spain and Germany have reached the semi-finals in contrasting fashion. Del Bosque's team have hardly shown the swagger they had during the Euro campaign.
By contrast, Germany, who have won the World Cup three times, stormed into the last four after a 4-nil whitewash of Diego Maradona's Argentina - a result that left the South American stunned.
Joachim Loew, Germany Head Coach, said, "This is what has brought us success here. Against Argentina and England, we always insisted, even after taking a lead one-nil or two-nil, to continue attacking. This is precisely why we have gotten opportunities. It is how we are going to succeed, otherwise, we have no chance against Spain."
While Germany has scored the most number of goals, 13, in this tournament, Spain have created the most number of attacking moves. The winner in Durban will take on the Netherlands in the World Cup final on Sunday at Soccer City in Johannesburg.
Editor:Du Xiaodan |Source: CCTV.com