Vets from a Sydney wildlife hospital have released three penguins back into the wild after two and a half months in captivity.
When lifesavers found Bondi, Tamarama and Clovelly they had flipper injuries and were weak, thin and dehydrated. After a long rehabilitation session, the trio became fit to be released back into the sea.
But wildlife experts say there are also dangers in the water such as marine debris, fishing line and hooks. Sometimes the animals are also hit by boats and attacked by dogs. There are around 35 penguins found ashore Sydney's beaches every year.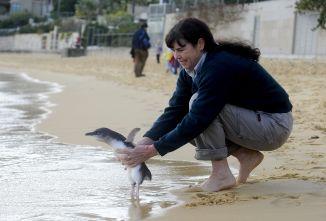 Taronga Zoo rangers returned three little Penguins to
the wild at Camp Cove, Watson's Bay. Picture: Alan Place