Watch Video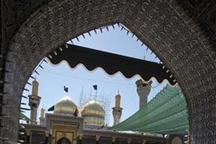 Play Video
A series of mortar attacks and roadside bombs have killed nine Shi'ite Muslims taking part in a religious pilgrimage in Baghdad.
Iraqi police officials say Tuesday's attacks took place at six locations around the capital, as devout Shi'ites converged on a mosque to commemorate the death of the imam, Moussa al-Kadhim. Hundreds of thousands of Shiites from around Iraq turned out in Baghdad for the ceremony on July 7th. They traditionally walk to the twin-domed shrine, where the revered saint is buried.
An Iraqi military spokesman says security forces are on high alert in the capital, and pilgrims are searched for weapons at various points leading to the shrine.
Related stories
Editor:Du Xiaodan |Source: CCTV.com