Watch Video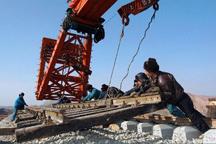 Play Video
China's west has experienced a decade of change. To ensure this continues, the central government will strengthen its efforts to further develop the region's economy. Some 680 billion yuan and a set of preferential policies will help boost this transformation.
The vast landscape, rich natural resources, and colorful ethnic minority cultures...these are the things for which the west is best known. But it is also home to China's poorest people.
Launched in 2000, the Western Development strategy aims at promoting the overall growth of twelve provinces, regions, and municipalities, including Xinjiang, Tibet, and Inner Mongolia. They account for over seventy percent of the country's territory, but only seventeen percent of the national GDP.
The latest investment in the west is painting a more dynamic, and hopefully more balanced, picture of China's growth.
Zhou Dadi is a senior researcher and analyst in China's energy policies. He says the government brought up the issue again for a reason.
Zhou Dadi said, "As China recovers from the financial crisis, it needs to adjust its economic growth pattern. And the western region is crucial in this process. Moreover, the west is also home to various ethnic minority groups. Maintaining stability is also key for future development."
Between 2000 and 2009, the country spent two point two trillion yuan on this massive western project. Major efforts include the construction of railways, airports, higher education infrastructure, and returning some farmlands to forests.
At Tuesday's work conference, President Hu Jintao laid out the goals for the next decade. He said the western regions should be built into the country's bases for energy resources, resource processing, equipment manufacturing, and for the country's emerging industries of strategic importance.
Zhou Dadi said, "The western region is rich in resources, such as coal mines. On one hand, the government should make sure some economic profits go to the locals. On the other hand, it is time to address some environmental problems...to keep energy from drying up in the region."
China will cut corporate income tax by ten percent in the west to attract investment. It is also formulating plans to alter resource taxes to better protect the region's natural resources.
Government will also work to improve the region's living standards, the environment, and public services.
Wang Mangmang, CCTV Reporter said, "Improving infrastructure is just the first step in the Western Development Strategy. Despite tremendous growth, the country's vast western region still lags behind its eastern sector in many ways. That's why the government wants to invest more, and a key goal is to transform its resource advantages ... into economic advantages.
Editor:Du Xiaodan |Source: CCTV.com