Watch Video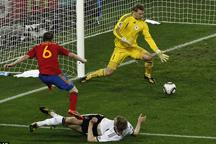 Play Video
The second Semi final of the World cup pitted Spain against Germany in Durban. The game itself was a re-run of the 2008 European Championships and true to form, the outcome was an exact mirror of the result of two years ago.
Spain set the tone early on with quick passing and Pedro found up Villa with an inch perfect through ball in the sixth minute. German goalkeeper Manuel Neuer did well coming off his line and denying the World Cup top scorers effort.
Minutes later, Spain threatened again when a dangerous header by Puyol from the edge of the box went over the bar.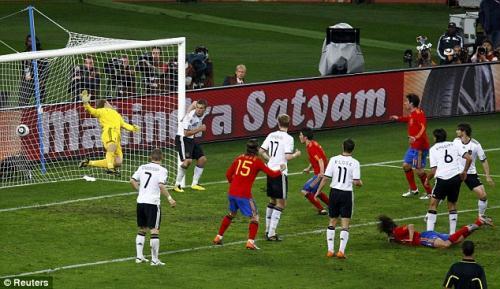 Floored genius: Carles Puyol (bottom right) thunders Spain into the ascendancy
The first serious threat from Germany came mid-way through the first half. Casillas diving to his left to push wide a long, low shot from Piotr Trochowski.
In the 58th, Spain produced two more chances - one right after the other. First, Neuer saved an attempt from Pedro, then Andres Iniesta slid a cross through the box but Villa couldn't reach it and the scoring chance went begging.
Seventeen minutes from time and Carles Puyol headed home the winner. He rose highest to sent Spain into the final. Puyol's powerful header from Xavi Hernandez's corner kick finally gave Spain the lead after they dominated large periods of the game.

Joachim Loew, German Coach, said, "In the last two or three years they have been one of the best and most united teams. They circulate the ball well and we couldn't play the way we like to play. We had great plans but it didn't work out. They've won all the big games in the last year. It's a good team that has played together now for two or three years.I am sure the Spanish can win any game because it's hard to contain their attack."

Vicente Del Bosque, Spain Coach, said, "From defense through to attack I think we played a great game. We've got another game in front of us, let's see if we are able to control the ball. We're in good shape physically, so let's see if we can win."