Watch Video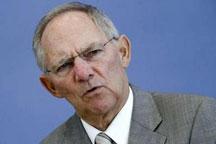 Play Video
Germany's Cabinet has approved a four-year, 80 billion euro austerity plan. It's aimed at slashing its bloated budget deficit and bringing the country's economic growth back on track.
Under the austerity plan, the German government will cut spending to a little more than 307 billion euros next year. That's a decrease of almost four percent from this year.
The government plans to reduce spending even further to 301 billion euros in 2012 and leave it around that level the following two years.
It will also work to cap borrowing at 0.35 percent of GDP by 2016.
Wolfgang Schaeuble, German Finance Minister, said, "The new indebtedness draft from the previous year for this year was 86 billion euros. Looking at this year it looks now less dramatic. In 2011 it will be 57.5 billion euros. In middle term finance planning we expect for 2012 to be 40.1 billion euros, in 2013 31.6 billion and in 2014, 24.1 billion euros."
The Finance Minister says the plan aims to bring the nation's structural deficit within EU limits by 2013.
Wolfgang Schaeuble, German Finance Minister, said, "We have to fulfill requirements and proposals of the European Union. We have to reduce the deficit under three percent by 2013."
The savings measures mark the latest chapter in the nation's drive to consolidate its public finances.
Germany reduced its budget deficit to zero in 2008 before the global financial crisis hit.
But it rose to 3.1 percent last year, above the EU limit of 3 percent for the countries using the euro, and is expected to top 5 percent this year.
The austerity plan still needs parliamentary approval, which should take place by the end of November.
Related stories
Editor:Zhang Pengfei |Source: CNTV.CN