Watch Video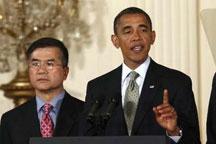 Play Video
US President Barack Obama says the government's export promotion strategy has borne fruit since introduced in January.
The country's exports grew almost 17 percent in the first four months of this year over the same period last year. Obama expresses his optimism that the US businesses will reach the goal of doubling exports over the next five years.
U.S. growth has returned after a severe recession. But with the unemployment rate stubbornly hovering at 10 percent -- many analysts say adding more jobs to the US economy will depend in large part on the strength of sales abroad.
Barack Obama, US President, said, "Ninety-five percent of the world's customers and fastest growing markets are beyond our borders. So if we want to find new growth streams, we've got to better compete for those customers - because other nations are. As I have said many times, the United States of American should not, cannot, and will not play for second place. We mean to compete for those jobs - and we mean to."
White House advisors estimate rising U.S. exports have added more than 1 percentage point to U.S. growth in the last nine months, making a more significant contribution to the recovery than domestic spending.
Barack Obama, US President, said, "In 2008, American exports accounted for nearly 7 percent of our total employment, one in three manufacturing jobs, and supported 10.3 million jobs in all - jobs that pay 15 percent more on average. So at a time when jobs are in short supply, building exports is an imperative. "
At the same time, doubt over the pace of Europe's recovery has focused U.S. attention on tapping into demand from China and other rising economic powers.
Editor:Zhang Pengfei |Source: CNTV.CN