Watch Video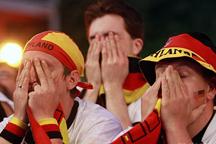 Play Video
Football fans celebrated wildly in Madrid as Spain beat Germany 1-0 to advance to the World Cup final. Meanwhile in the German capital, fans were left disappointed.
Tens of thousands fans in Madrid celebrated Spain's semi-final victory over Germany and reaching their first ever World Cup final.
As the final whistle blew, they exploded in joy, jumping and screaming and hugging each other.
Across Spain, people blasted their car horns and set off firecrackers to celebrate.
Spanish Fan, said, "At last we've reached the final!"
--"Phenomenal. And after this we're going to win for sure."
It was a sharp contrast from Germany's last two outings, when it scored 4 goals each in impressive victories over England and Argentina.
Disappointed German fans streamed out of the Fan Zone in central Berlin.
Poland Fritsch, German Soccer Fan, said, "The Germans weren't as good as usual. Normally they play much better but they just couldn't get into it today. They were too young."
Ilona Panke, German Soccer Fan, said, "Awful. Spain was much better. It hurts me to say this but they just didn't run. They were too slow. I really hoped the Germans would win, but never mind."
Spain's previous best World Cup finish was 4th in 1950. And in Sunday's final Spain will meet the Netherlands, another team that has never won football's biggest prize.
Related stories
Editor:Du Xiaodan |Source: CCTV.com