Watch Video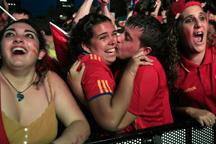 Play Video
There were tears of joy in Madrid and tears of sorrow in Berlin as reigning European Champions Spain booked their place in the 2010 World Cup final in South Africa.
Spain were typically calm with their play. They were patient, used tactical nous and skill which ultimately proved too much for a young German side. The Spanish team can lift the world cup for the first time in their history should they win the final. There was a show of force from supporters both in Durban and back in their Native homeland - and after victory, the relief was evident.
"Pride for all the Spanish people. Go Spain."
"The premonition said that we were going to score a goal. I felt that we were going to do something good. And when we won the European Cup, six moths after that, I bought the ticket for the world cup, a year ago, knowing that something good was going to happen."
"Spain, because we are the champions of Europe and all we have to do is to win the World Cup. We need it."
"Next year real Madrid wins the champions league."
Related stories