Watch Video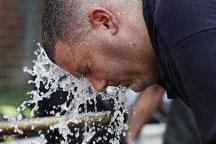 Play Video
The eastern seaboard of the United States cooked for another day on Wednesday as unrelenting heat again sent thermometers past 37 degrees Celsius.
The heat caused roads to buckle, slowed trains and pushed utilities to the limit of the electrical grid's capacity.
The giant pandas at Washington National Zoo were given frozen "fruitsicles" to help them cope with the heat.
Scattered power outages affected customers up and down the coast and usage approached record levels.
In Washington, DC, nearly 1,000 users were without power on Wednesday.
Kathleen Mccourt, Washington, DC Resident, said, "We got power for maybe, over the night so the house cooled off, but I had to throw away all my refrigerated items, my frozen items. And we are miserable, that's all."
The local power utility was working to restore power while temperatures in the workplace reached dangerous levels.
Clay Anderson, Pepco Spokesperson, said, "These manholes that you see, underground temperatures exceed 140 degrees (Fahrenheit) (60 degrees Celsius) - that is correct.We do have a thermometer yesterday that registered 147 degrees Fahrenheit (64 degrees Celsius). So, safety is a concern for our men and women that go underground."
New York, Philadelphia, Baltimore and other dense, built-up areas are getting hit with the heat in a way their counterparts in suburbs and rural areas aren't.
In Allentown, Pennsylvania, local residents took advantage of a Salvation Army cooling station.
With people cranking up their air conditioners, PJM Interconnection, which operates the largest electrical grid in the US, urged users to conserve electricity as much as possible, especially in the peak afternoon hours.
Editor:Zhang Pengfei |Source: CNTV.CN