Watch Video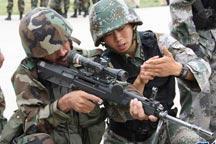 Play Video
China and Pakistan's joint military exercise has entered its final stage. Senior officials from both armies have arrived in Ningxia Hui Autonomous Region,in northwest China, to observe the final exercise. A joint command center has been set up to analyze targets and devise attack strategies. Wang Guan reports from Qingtongxia military base in Ningxia.
The master-mind behind the attack.
On Thursday, the Chinese and Pakistani army set up a joint command, one day before the final drill.
Mock targets have been found---suspected terrorists are hiding in the mountains along the China-Pakistan border, on terrain that is easy to defend but hard to attack.
Senior military officials from both sides arrived for the final showdown.
They included General Ma Xiaotian, deputy chief of General Staff of the Chinese People's Liberation Army...and Lieutanent General Waheed Arshad from Pakistan Army.
Cao Yimin, Major gereral of Lanzhou Military Area Command, said, "The success of a battle largely hinges on how well its command headquarter functions. When two armies set up a joint command, it's esepcially important to make sure it functions well."
The run-up to the final exercise has been a bonding experience.
Soldiers have been re-grouped into company A, and B, with about the same number of Chinese and Pakistani soldiers in each group. They exchanged weaponry, skills and more importantly, recent experiences in dealing with terrorists.
All these make Friday's report exercise, unique in many ways.
Li Fuhua, Sr.Colonel of Director of Joint Military Training, said, "First of all, you will see special forces from both countries. They can multi-task and you will see that they are highly trained to perform counter-terrorism missions. Secondly, we combine the air force with ground troops in this mission. That includes transport helicopters, armed helicopters and fighter bombers. This helped achieve what we call a " three-dimensional attack."
The Colonel added that the exercise will involve tasks such as locating terrorists with global positioning devices, launching air-strikes and... hostage rescue operations, which could be the most difficult part.
Years of preparation and seven days of training, the upcoming exercise will be an event worth anticipating. We will see how ground troops and the air force complement each other, and how Chinese and Pakistani special forces coordinate their actions.
Editor:Zhang Ning |Source: CNTV.CN