Watch Video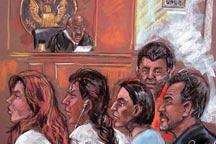 Play Video
Eleven suspects accused of spying for Russia have been formally charged in a US federal indictment.
The indictment charged all the defendants with conspiring to act as secret agents and also charged nine of them with conspiracy to commit money laundering. All eleven people were charged in Manhattan. The lawyers for Vicky Pelaez and Juan Lazaro, who are among 11 people accused, have commented on their clients' cases and are maintaining both are innocent.
Genesis A. Peduto of Attorney for Juan Lazaro, said, "Right now my client is denying that he made confession. I have not seen any signed confession."
Carlos Moreno, Attorney for Vicky Pelaez,said, "I believe absolutely in the innocence of Vicky Pelaez. Absolutely."
On Wednesday the intrigue over the spy ring deepened as word emerged of a possible scheme to swap Russians for an imprisoned arms-control researcher and others in Russia who passed secrets to the US. Brother of imprisoned Igor Sutyagin says he was told his brother would be among convicted spies who are to be exchanged for Russians arrested by the FBI.
Dmitry Sutyagin, brother of Igor Sutyagin, said, "From Igor's conversation with a general, it became clear that this question was being solved on the highest level, most likely with the involvement of Russian and US presidents. And correspondingly a list has been presented by the US side. How it was formulated and who was on it, we do not know."
Officials from both the United States and Russia refused to comment on the claim.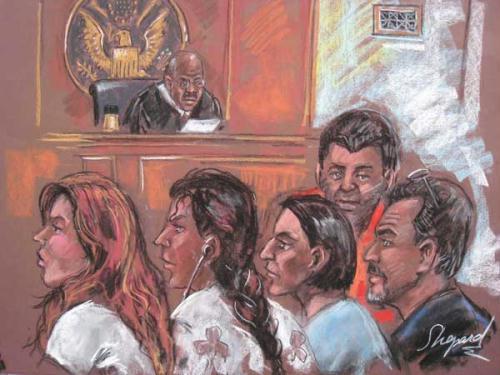 This drawing shows five of the 10 arrested Russian spy suspects in a New York courtroom.(Xinhua/AFP Photo)
Editor:Zhang Ning |Source: CNTV.CN