Watch Video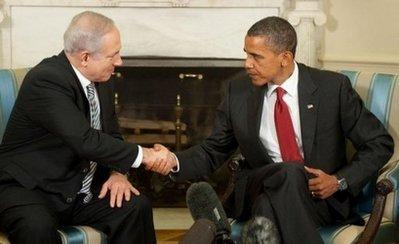 Play Video
Both the US and Israel say they are optimistic that a peace agreement between Israel and the Palestinians could be reached. However, a Palestinian official says they are skeptical about Israel's intentions for engaging in renewed peace talks.
In an interview with Israeli broadcaster Channel 2 at the White House, US President Barack Obama says he had a productive meeting with Israeli Prime Minister Benjamin Netanyahu earlier that day.
Obama said, "I had an excellent meeting with Prime Minister Netanyahu and I think he is somebody who understands we've got a fairly narrow window of opportunity. On the Palestinian side, moderates like Abu Mazen (Palestinian President Mahmoud Abbas) and Fayyad (Palestinian Prime Minister Salam Fayyad) are, I think, willing to make the concessions and engage in negotiations that can result in peace."
Speaking in Washington DC, Netanyahu expects negotiations will be difficult, but is optimistic they should begin very soon.
Netanyahu said, "Now, this is going to be a very, very tough negotiation, but I am prepared to engage in it. The sooner, the better. Direct negotiations must start right away, and I hope they will, and I believe there is reason to think that they will very soon."
A spokesman for the Palestinian Authority government in the West Bank says Israel was "not really ready" to negotiate peace.
Meanwhile, in Gaza, a spokesman for the Hamas leadership, rejects the offer, saying Israel has no serious intention of reaching a peaceful solution.
One critical issue for the Palestinians is a freeze on the building of settlements in the West Bank and East Jerusalem in return for direct peace talks, something which hard-liners in Netanyahu's coalition government reject.
Related stories
Editor:Zhang Jingya |Source: CCTV.com