Watch Video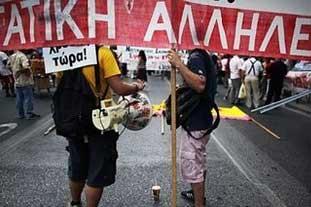 Play Video
Transport workers in Greece are striking against government reforms to the pension system. Passengers across the country have been affected by the action. The Greek government is attempting to pull the country out of a debt crisis by introducing austerity measures, which include raising the retirement age.
A strike by Greek transport workers threatens to disrupt thousands of travellers across the country.
The walkout comes as parliament moves to vote on a sweeping pension reform.
The final vote on the pensions bill which aims to curb early retirement and raise the retirement age, is due later on Thursday.
Many internal flights were cancelled, train stations closed and ferries remained docked, leaving passengers angry and confused.
Tourism is an essential contributor to the Greek economy, accounting for nearly a fifth of GDP.
Elsewhere in Athens workers from the country's biggest trade union, representing more than 2 million workers called a nation-wide strike.
Many Greeks are angry at the prospect of having to work longer for a smaller pension.
Currently women are able to retire at 55, now the government wants raise the age to 65 for all.
Spyros Likakos, police officer said, "People need to come out onto the streets, so we can overturn this medieval reform bill the government is trying to impose on us. These reforms have never been implemented even in the worst times."
A striking worker said, "I work as an iron welder and I dont believe our workers will be able to stand working in the iron plants for 40 years. I hope the government will rethink these reforms and consider the problems it will bring to us and to the next generation."
The latest reform bill is an important condition set by the EU and IMF in return for aid to pull the country out of a severe debt crisis.
Editor:Zhang Jingya |Source: CCTV.com