Watch Video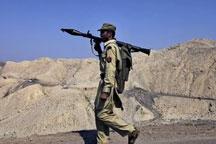 Play Video
Pakistan's Kurram agency lies in the country's tribal region that spills over the border into Afghanistan.
The area was thought to have been the initial safe haven for Taliban and al Qaeda fighters -- including, Osama bin Laden.
Although the army says the area is now clear after a miltiary offensive, many believe the Taliban still controls large parts of it.
The road from Parachinar to Thal in Pakistan's tribal borderlands, lies just a few kilometers from Afghanistan's border. It was divided by warring Sunni and Shiite militias and then blocked by various Taliban groups.
But now, the Pakistani army says it is open and free, with the square once used by the Taliban for executions now a bustling market.
Col. Tausif Akhtar, Commander of Jurram Agency, said, "We now control the Dogar area. This was a major narcotics market and weapons were also sold here. And there were a lot many protection harbours and training camps and many other things, facilities of the terrorist (inaudible). They have now been made non-functional."
But local civilians complain the road is still insecure for travel. The surest sign of a remaining militant presence is the look of fear on people's faces.
Haji Kamal Hussain, President of Parachinar Traders' Welfare Union, said, "For us it is impossible to travel on the Thal-Parachinar road without the escort of the Militia, because there's too much danger there."
And analysts are doubtful, too.
They agree the militants have been driven out of some of the areas, but say the Taliban are still controlling many areas in central Kurram.
"This area is a very scattered area. Strategically, it is very difficult to make a complete operation against the Taliban or other things because we are connected with three provinces of Afghanistan."
The signs of a lack of security are everywhere. At least 35 militants have been killed in clashes with security forces since the beginning of June.
That's enough for many to believe that the situation in Kurram is more dangerous than expected, and that militants are either returning or never left in the first place.
Related stories
Editor:Zhang Pengfei |Source: CNTV.CN