Watch Video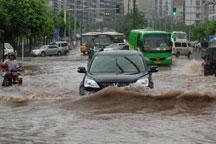 Play Video
China's National Meteorological Center has raised the nation's storm alert to "orange", one step below the highest rating.
Heavy rainfall has been forecast in at least ten provinces and regions, in central and southwest China in the next 24 hours.
China continues to endure extreme weather.
Heavy rains began to ravage southwestern China's Chongqing Municipality on Thursday, causing mud flows and landslides in many parts of the region.
At a coal mine in Yongzhou district, flood-triggered disasters have damaged nearly 100 nearby homes.
The number 319 national highway was cut off by the downpours, and most flights to and from Jiangbei International Airport have been delayed.
East China's Jiangxi Province issued a yellow storm alert on Friday. Fuzhou county, along with many its surrounding areas that were pounded by floods last month, are once again experiencing heavy downpours.
Roads, bridges and farmland have been submerged, but so far, no casualties have been reported.
Meanwhile, a rainstorm alarm sounded in the mountainous Dabieshan areas in central China's Hubei Province. Local weather officials forecast more rainfall in eastern parts of Hubei province.
In neighboring Anhui, authorities launched a level II emergency response on Friday, and raised the storm alert to orange.
The provincial government has called an emergency meeting to discuss plans to counter the damage from what officials said might be the worst storm to hit parts of Anhui in a decade.