Watch Video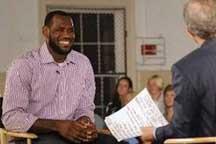 Play Video
NBA superstar LeBron James has announced he will sign with the Miami Heat. The announcement ended weeks of round-the-clock speculation about where the two-time MVP would sign.
James' announcement set off a party in Miami as jubilant revellers watched the announcement in bars and then spilled out onto the streets. It's a huge victory for the Heat's administrators, who persuaded Dwayne Wade and Chris Bosh, a five-time All-Star with the Toronto Raptors, to agree to take less money so that James could join them. While in Cleveland, where they haven't sprayed championship champagne in 46 years, there is devastation. In a live ESPN broadcast, he justified his decision.
Lebron James, NBA player, said, "I felt like this is going to give me the best opportunity to win and to win for multiple years. And not only to win in the regular season or just to win five games in a row or three games in a row, I want to be able to win championships and I feel like I can compete down there."