Watch Video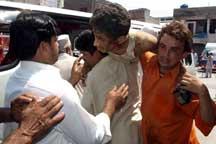 Play Video
A suicide bomber struck a government office on Friday in a tribal region of Pakistan, killing at least 50 people and wounding some 70 others.
The explosion happened near the Yakaghund village office of the Mohmand tribal region's assistant political agent.
The blast destroyed shops, government offices and a small prison. So far no one has claimed responsibility for the blast.
Mohmand is one of several areas in Pakistan's lawless tribal belt where Taliban and al-Qaida are believed to be hiding.
Related stories