Watch Video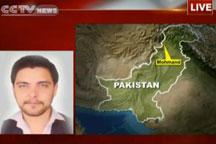 Play Video
For more on the Pakistani blast, we are joined on the phone by correspondent Daniel Khan in Islamabad.
Q1: Hello Frequent blasts often rock northwestern Pakistan's tribal belt bordering Afghanistan. How will the Pakistani side deal with the border security problem?
Q2: Why do terrorist attacks often take place in such areas?
Q3: As terrorist attacks happen quite often in Pakistan's tribal belt, please tell us what the living conditions are like for people living in those areas.
Editor:Zhang Pengfei |Source: CNTV.CN