Watch Video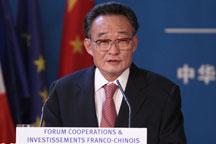 Play Video
Top Chinese legislator Wu Bangguo is in Paris for an eight-day goodwill visit to France.
Wu Bangguo gave a keynote speech on Friday at a business forum attended by more than 200 French and Chinese officials and business leaders in Paris.
Wu Bangguo said China and France should strengthen their cooperation and build a close, long-term and sustainable type of new economic and trade partnership.
Wu Bangguo said Chinese and French economies are highly complementary to each other and have great potential for more bilateral cooperation.
He unveiled a three-point proposal to further strengthen economic partnership of the two countries. It includes deepening cooperation on major projects, exploring new areas of cooperation and improving the environment for investment and trade.
France is China's fourth-largest trading partner within the EU, while China is France's biggest trading partner in Asia.
Related stories