Watch Video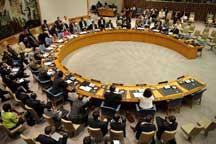 Play Video
The UN Security Council has condemned the attack which led to the sinking of a South Korean warship, but it fell short of blaming the Democratic People's Republic of Korea.
The Council made the condemnation in a presidential statement adopted by consensus on Friday. The sinking of the Cheonan ship on March 26th killed 46 South Korean sailors.
The presidential statement says that the UN Security Council deplores the loss of life and injuries and expresses its deep sympathy and condolences to the victims and their families, as well as the South Korean people and government.
The statement mentions the findings of the investigation conducted by South Korea, while noting the response from the DPRK.
U. Joy Ogwu, UN Security Council President, said, "The Security Council takes note of the responses from other relevant parties, including from the DPRK which has stated that it had nothing to do with the incident. Therefore the Security Council condemns the attack which led to the sinking of the Cheonan."
The UN Security Council also "stresses the importance of maintaining peace and stability on the Korean Peninsula and in Norheast Asia as a whole.
It "encourages the settlement of outstanding issues on the Korean Peninsula by peaceful means to resume direct dialogue and negotiation through appropriate channels as early as possible, with a view to avoiding conflicts.
Related stories