Watch Video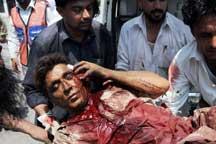 Play Video
Twin suicide bombings have killed at least 62 people outside a government office of the Mohmand tribal area in northwestern Pakistan. Friday's assault was one of the deadliest in the country this year.
The pair of suicide bombers may have been targeting anti-Taliban tribal elders visiting the government office.
One of the bombs was much more powerful than the other.
The region's chief administrator confirmed tribal elders were in the building, but none was hurt.
However, some 70 to 80 shops in the area were damaged or destroyed.
Mahboob Khan, Injured Eyewitness, said, "I was standing in front of my house. Suddenly a massive blast struck and there was dust and darkness for a while. Our house collapsed in the blast. Some of my family members were injured and others were killed."
The blasts struck within seconds of each other. They coincide with a visit by two US senators in the capital, Islamabad. The senators met with Pakistani leaders to discuss their countries' cooperation in the fight against extremism.
Security forces have recently conducted a surge against the Taliban in the lawless tribal belt bordering Afghanistan.
Mohmand is one of several Pakistani regions where Taliban and al-Qaida members are believed to be hiding. Militants there continue to maintain a firm foothold.
Related stories