Watch Video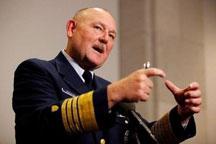 Play Video
The US Coast Guard says BP could install a new, large containment cap over its leaking oil well in the Gulf of Mexico in the next three to four days.
BP is preparing for a key procedure to replace the containment cap over its blown-out oil well, which could temporarily cause more oil to gush into the Gulf of Mexico.
The energy giant's latest move aims to capitalize on a 7-10 day stretch of predicted clear weather. The top US official overseeing the oil spill response said BP could remove the cap from the well on Saturday and install the new cap by late Sunday or early Monday.
Admiral Thad Allen, US Coast Guard, said, "The entire process once we start unbolting and are in a position to put the new cap on could be three to four days."
BP spent Friday hooking up a third production vessel that could begin siphoning crude as early as Sunday.
The vessel intends to increase the total oil-capture capacity to 53-thousand barrels a day. The existing cap system must shut down while the caps are switched, so the third vessel is likely to fill the gap in the interim.
Meanwhile, the US Interior Department said it will issue a new order on deep water oil drilling below 152.5 meters to address the concerns raised by federal courts. It came in response to a court's refusal to reinstate a ban on deep water drilling.
Related stories
Editor:Zhang Pengfei |Source: CNTV.CN