Watch Video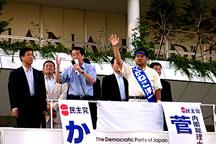 Play Video
Japanese Prime Minister Naoto Kan is pleading with voters to give his party a second chance. Polling stations have opened for voters to cast their ballot in Sunday's upper house election. The Prime Minister's job and his efforts at fiscal reform are all on the line.
Candidates travelled in campaign vans on Saturday, speakers blaring and aides waving out of windows, stopping to give speeches throughout the country.
Naoto Kan, Japanese Prime Minister, said, "We've made some mistakes in the past couple months but I would like to get on the right track and push ahead with a new way of doing politics. I would like to have your support."
But public support for Naoto Kan and his party is sinking.
Promising to cut wasteful spending and bring more transparency to politics, the Democrats swept to power in lower house elections last August that ended 55 years of nearly unbroken rule by the conservative Liberal Democratic Party.
But Naoto Kan's suggestions that Japan should consider raising its sales tax from five percent to as high as 10 percent in coming years has weakened public support for his Cabinet and his party.
Jeff Kingston, Dirctor of Asian Studies of Temple University, Tokyo, said, "He began shooting from the hip. It seemed like he hadn't really thought it all out. It was very ad hoc. And so I think that the public suddenly was reminded of their previous waffling, flip-flopping Hatoyama, and Kan, instead of looking like the resolute leader - a la Koizumi - began sort of reminding voters of Hatoyama."
In the last several days, Kan has changed, promising the Democrats won't raise the sales tax until after the next lower house elections.
He also spent more time talking about welfare and ways to promote economic growth.
Media surveys this week show the DPJ would likely win 50 or even fewer of the 121 seats up for grabs in the 242-member chamber.
That would deprive the DPJ and its tiny coalition partner, the pro-spending People's New Party, of a majority in the upper house.
Editor:Zheng Limin |Source: CNTV.cn