Watch Video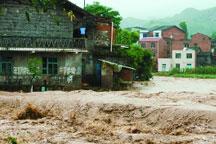 Play Video
More than 10-thousand people have been evacuated from the flooded city of Golmud in northwest China's Qinghai Province. Those displaced have settled into tents and received relief goods.
The camp located in the Golmud New and High Tech Development Zone includes 800 tents and basic facilities.
The municipal government and armed police erected the settlement over two days to accommodate those displaced by the city's flood triggered by a burst dam. Electricity is expected to be available soon.
Engineer State Grid, Colmud Branch, said, "We try to provide convenience for residents here. We will establish the illumination system on the square and in the tents as soon as possible. "
Golmud's municipal government have transported ample supply of disaster relief goods including flour, bottled water and instant noodles.
Evacuee of Golmud, Qinghai Province, said, "We have all been evacuated. Tents, instant noodles and water have been distributed to us."
The settlement has set up an infirmary to treat people in need of medical attention. Running water, temporary dumps, and toilets have also been provided.
Telecommunication companies have established a mobile service center in the area. Ten phones were provided for evacuees to talk to their relatives for free.
Related stories
Editor:Zheng Limin |Source: CNTV.cn