Watch Video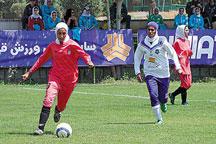 Play Video
Controversy has embroiled the sport ahead of next month's Youth Olympics in Singapore. FIFA has banned players from the Iranian girls' team from wearing Islamic hijab headscarves on the pitch. But what attire is suitable for Iranian girls is still under negotiation.
Samaneh Ghashieh lives for football.
The 16-year-old has played for Iran's girl's national team for three years.
Football is a passion shared by Samaneh's family.
Her father, brother and sister have all played the sport professionally.
Samaneh Chashieh, Iranian Girls' Football Team, said, "I was born into a football-zealous family. My brother is a football player and my dad used to play too. They both encouraged me to take up the sport. My sister also plays, and she has supported me too."
However Samaneh and her teammates appear likely to miss out on competing in Singapore at the Youth Olympics in August.
FIFA requested in April that Iran swap the traditional hijab headscarves for a cap that covers the players' hair.
Under the country's strict Islamic regulations, women should cover themselves head-to-toe, although they are allowed to show their faces.
"Because Islam is our religion, we have to wear the hijab. Personally, I am okay with it and in the matches we played, it was not a big problem." Samaneh Chashieh said.
A new outfit was created by Iranian designers in response to FIFA's request.
It consists of a cap similar to what swimmers wear, long-sleeved thick tops, below-knee trousers and long stockings.
However, Iranian sports officials have slammed the suggested outfits as "inappropriate".
Iran's Football Federation said it will pursue a final version of the girls' team attire, indicating that an agreement may still be reached.
Editor:Zheng Limin |Source: CNTV.cn