Watch Video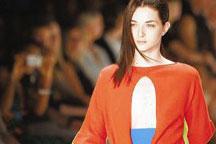 Play Video
Designers making their debut at this year's Berlin Fashion Week have impressed industry critics and buyers alike. Tom Fearon takes us to the catwalk for a closer look at the bold designs and sophisticated style.
Polish designer Dawid Tomaszewski unveiled his collection on the final day of Berlin Fashion Week in the German capital.
The newcomer pleasantly surprised most of the guests. His designs included a mix of haute couture and ready-to-wear evening gowns. His nifty cuts, fancy fabrics and dazzling patterns attracted interest from buyers and admirers among the audience.
Doris Huber, Chief Editor of Vogue.com, said, "I am absolutely amazed. This is the first collection of his I have seen and I really have to say that I'm pleasantly surprised. Having seen his collection, I never would have thought that he is a newcomer. Everything seems very sophisticated: the cuts, the ideas, the prints are great."
A local young talent also emerged as a favorite at the Fashion Week. Accompanied by live music, Berlin-based designer Kilian Kerner presented his collection of sequined dresses, shirts and alice bands. But it was Kerner's transparent long dress spiced-up with an armor-like top that stole the spotlight on the catwalk.
Kerner has neither got the chance to go to art school nor study fashion at university but has been received as one of Berlin's most creative artists.
Editor:Zheng Limin |Source: CNTV.cn