Watch Video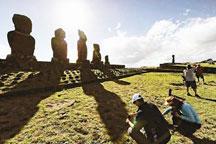 Play Video
A total eclipse of the Sun will occur later on Sunday. But don't get too excited - it will only be visible along a narrow corridor through the southern Pacific Ocean. The blackout will cover Easter Island, and portions of southern Chile and Argentina.
The spectacle will begin at sunrise local time, at 18.15 GMT, some 700 kilometers southeast of Tonga. The longest length of the eclipse will occur over open water, lasting 5 minutes and 20 seconds. It will give scientists a rare glimpse of the solar corona around the edge of the Sun, which stretches out more than a million kilometers from the Sun's surface into space. Scientists will be looking for solar storms within the corona that send powerful solar winds towards earth. They are also studying the Sun's transition from a period of minimal solar activity into a period of major solar activity.
Holly Gilbert, NASA Astrophysicist, said, "So, the Sun goes through an activity cycle where it goes through solar minimum which are times of very, very low solar activity, very few sun spots, and we're just coming out of a very extended solar minimum now, and we're ramping up to solar maximum where we're going to see a lot more activity, a lot more active regions, sun spots and solar storms. Now, that might peak in about 2014 and it's unclear as to how weak or how strong it will be relative to other solar maximum in the past."
Editor:Zheng Limin |Source: CNTV.cn