Watch Video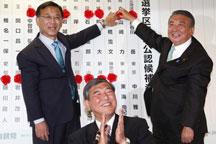 Play Video
Japanese Prime Minister Naoto Kan, has conceded that he fell short of his targets in Sunday's upper house elections.
He said his ruling party expected support from other parties on key issues, but ruled out immediately forming a coalition.
Japan's opposition parties have so far garnered 123 seats in the upper house, exceeding a 50 percent threshold and ensuring them victory in the election.
Japan's main opposition party - the Liberal Democratic Party, or LDP - won 49 seats on early Monday. Thirteen seats remain undecided.
The final results will be released on Monday morning.
Sadakazu Tanigaki, Leader of Liberal Democratic Party, said, "This result comes from Japanese voters' judgement on the chaotic politics conducted by the Democratic Party of Japan over the last ten months. It also shows that voters supported our effort to regain trust after our defeat last year."
The ruling Democratic Party of Japan, or DPJ, has only won 40 seats. But they will remain in power because the party is controlling the more powerful lower house, or the House of Representatives.
Kan ruled out immediately forming a coalition with the LDP. He said he accepted the results of the election and the decision from voters. He also conceded that his remarks on a possible consumption tax hike had damaged his campaign.
Naoto Kan, Japanese Prime Minister, said, "People may have seen the way I proposed the tax hike as a little abrupt. My lack of a thorough explanation was contributing factor to the election outcome."
The result of the election is going to have a great impact on whether the ruling coalition can pass bills smoothly.
The upper house election is the first national poll since the DPJ rose to power last September.
In Japan, councilors serve six-year terms of office. Half of the seats are re-elected every three years, while 96 seats are elected by proportional representation from a national constituency.
Related stories
Editor:Zhang Pengfei |Source: CNTV.CN