Watch Video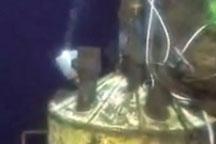 Play Video
Turning to the Gulf of Mexico, BP has reported progress in the early stages of replacing a containment cap over its blown out oil well. Meanwhile, the energy giant is speeding up the claims process.
Robotic submarines removed the cap placed on top of the leak early last month to siphon oil from the gushing well.
BP aims to have the new, tighter cap in place as early as Monday. So far, work has been carried out according to plan. BP hopes the operation will be completed within three to six days.
If the new cap doesn't work, BP will fit a backup similar to the old one on top of the leak.
But officials warn that there's no guarantee of success for such a delicate operation nearly two kilometers below the water's surface.
The new cap will only be a temporary solution to the catastrophe. BP said the permanent fix of plugging the well from the bottom remains slated for mid-August.
Meanwhile, BP is speeding up the claims process of its 20 billion US dollar fund.
Those eligible will receive a full six months' worth of emergency payments on a single request.
Related stories
Editor:Zhang Pengfei |Source: CNTV.CN