Watch Video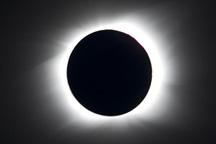 Play Video
People in the south of Chile and on Easter Island are among the lucky few able to witness the total solar eclipse that crossed the South Pacific on Sunday.
It started at 18.15 GMT about 700 kilometers south-east of Tonga, and reached Easter Island by 20.11 GMT.
The period of the greatest eclipse was over open water, lasting about five minutes.
Thousands of tourists gathered on Easter Island, doubling its population, just for this event.
The next total solar eclipse will be in November 2012. It'll be visible from northern Australia and the South Pacific.