Watch Video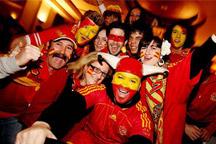 Play Video
A night of celebration started on Sunday as Spain beat the Netherlands 1-0 to clinch the nation's first World Cup and take its place among international football's all-time greatest teams. Tens of thousands of Spain supporters cheered wildly as Andres Iniesta scored with four minutes of extra time left.
A spectacular fireworks display lit up the night sky above Johannesburg's Soccer City stadium on Sunday, marking the end of the first World Cup to be staged on the African continent.
Moments later ecstatic Spanish fans poured out of the stadium, cheering wildly after their victory.
Spanish Fan, said, "...It's very satisfying after so long waiting for this, it's been a long time coming. We're always so close, but finally we got it all. It's the best feeling in the world."
La Roja, which also won the Euro 2008 championships, became the first team since West Germany in 1974 to jointly hold the European and world titles.
Spain also entered the record books as the first European team to win a World Cup outside their own continent.
Editor:Yang Jie |Source: CNTV.CN