Watch Video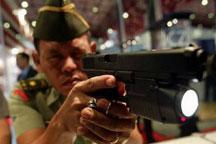 Play Video
The world's nations have opened negotiations on international arms trade. They are discussing a treaty aimed at regulating the 55 billion US dollar global weapons market.
The goal is to prevent guns from pouring into conflict zones and fueling wars and atrocities. Liao Liang has more details.
Monday marked the start of the first of three preparatory sessions over the next year, with a four-week conference planned for 2012 to finalize a treaty.
Supporters aim to set common rules for international
arms sales -- from rifles to fighter planes -- to replace a patchwork of national laws riddled with loopholes that make it easy to buy weapons for conflicts.
Key issues in the negotiations include what criteria governments will have to meet to get a green light for arms sales, and how compliance will be monitored.
The discussions also include a paragraph diplomats say is essential for the United States, where the right to private gun ownership is a sensitive domestic issue. The paragraph says national governments will continue to regulate their own arms sales at home.
UN disarmament chief Sergio Duarte told delegates from the 192 member states they could "help reverse the vicious cycles of conflict and armed violence".
Some delegates expect a draft text within two weeks. British delegate John Duncan says that's "over-ambitious," but he also admits that some countries now appear more receptive to a treaty than last year.
One person every minute dies as a result of armed violence, and some 128 armed conflicts since the end of the Cold War in 1989 have led to at least 250,000 deaths each year, according to the Control Arms Campaign, an international advocacy group.
Editor:Zhang Pengfei |Source: CNTV.CN