Watch Video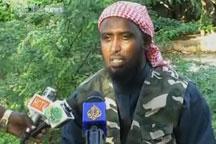 Play Video
A Somali-based militant group, that is linked with al-Qaida, has claimed responsibility for the bombings in the Ugandan capital of Kampala.
78 people were killed. They had no chance to escape as the terrorists set off the blasts while they were watching the World Cup final.
The Somali-based militant group al-Shabab claimed responsibility for the Ugandan bombings at a news conference in Mogadishu.
Al-Shabab has long threatened to attack outside of Somalia's borders. But, the bombings late on Sunday were the first time the group had carried through with a threat.
Sheikh Ali Mohamud Rage, Spokesman of Al-Shabab Militant Group, said, "We are behind the attack because we are at war with Uganda. We warned Uganda not to deploy troops to Somalia, they ignored us. The explosions in Kampala were only a minor message to them. We will target them everywhere if Uganda does not withdraw from our land."
Ugandan President Yoweri Museveni visited the blast site and the wounded in hospital on Monday. He has declared one week of national mourning for the victims of the blasts.
Investigators have begun sifting through the wreckage at the two blast sites an outdoor screening of the World Cup at a rugby club and the other- an Ethiopian restaurant.
Officials say there are early indications two suicide bombers took part.
60 Ugandans, nine Ethiopians, one Irish woman, and one Asian are among the dead.
A California-based aid group says one of its American workers was also killed.
Thomas Kramer, Injured US Citizen, said, "We were at a place to eat Ethiopian food and we were watching the World Cup, and at the beginning of the second period, there was just this big explosion and the next thing I knew I was on the ground with a bunch of rubble. I was scraped up and I have a big laceration in my leg, it's like this deep, which I had to get surgery again for."
The attacks came two days after an Al-Shabab commander called for militants to attack sites in Uganda and Burundi, two nations that contribute troops to the African Union peacekeeping force in Somalia.
The group warns that Burundi could soon also face attacks.
Despite the blasts, a Ugandan Army spokesman says the country will not withdraw troops from Somalia.
Editor:Zhang Pengfei |Source: CNTV.CN