Watch Video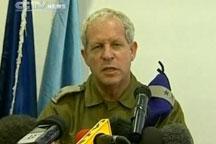 Play Video
The Israeli military has released a report which investigated its raid on a Gaza-bound aid flotilla six weeks ago.
The report says the Israeli defense force made mistakes in intelligence gathering and decision-making.
Goira Eiland, Report Author, Retired General, said, The Gaza-bound aid flotilla incident was investigated by retired General GOIRA EILAND.
He found the Israeli Army made professional mistakes, with security forces under-estimating the potential of violence by boarding the ships.
However, the Israeli army's internal investigation panel, defended the army's decision to board the ships and open fire.
Goira Eiland, Report Author, Retired General, said, "In this inquiry we found that there were some professional mistakes regarding both the intelligence and the decision-making process and some of the operational mistakes, but also, we did find some very positive findings, and one of them that should be emphasized, is the very professional and courageous way that the Israeli commando behaved."
The panel played footage, showing passengers on-board a Turkish aid vessel saying they wanted to die as martyrs.
The report found 15 Israeli commandos who abseiled onto the ship from helicopters only opened live fire "when their lives were in real and immediate danger".
The May 31 bloodshed provoked international outrage, which led to Israel easing its blockade on the Hamas-ruled Gaza strip.
Eight Turkish nationals and one Turkish-American were killed in the flotilla raid. Dozens more were injured.
Editor:Zhang Pengfei |Source: CNTV.CN