Watch Video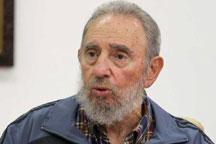 Play Video
Cuba's former leader Fidel Castro, has given a television interview.
The 83-year-old former President talked about tensions on the Korean Peninsula and the Iranian nuclear issue, at the start of Monday's interview on "Round Table", a daily Cuban talk show on current events.
Castro was speaking slowly, but appeared relaxed and cogent during his most prominent television interview in years.
He has stayed largely out of the public eye since he was forced to hand over power four years ago due to declining health. Cubans have reacted positively to seeing their former leader.
Nelson Entenzas, Electric Company Worker, said, "We consider it very effective and brave, to demonstrate to the world that our beloved commander finds himself enjoying perfect health."
Luiz Salazar, Store Attendant, said, "To me, he means everything. Thanks to him I have my house. He helps me. What else can I ask for? He is a tremendous person."
Orlando Liveria Reyes, Retired Man, said, "For us, it's an encouraging moment, because he is the leader of our historic revolution. We feel very happy to see him on television because there were a great many people who thought he was gravely ill. But now we know how he is."
Neuri Rise, Glass Worker, said, "I'm positive, it's good, very good. I'm very happy that such an important figure as him has appeared again."