Watch Video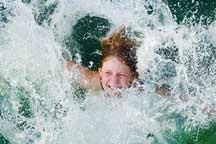 Play Video
A heatwave is sweeping large parts of Europe and causing discomfort. Temperatures have been hovering around 40 degrees Celsius in many capital cities.
In the Georgian capital, Tbilisi, a temperature of 44 degrees Celsius broke all records.
The city's fountains have become the place to cool down for local residents.
Lida Khorava, Tbilisi Resident, said, "It is the worst heat I have lived through, At the moment I do not have a chance to leave Tbilisi so I bring kids every day here to cool them off."
Streets in the city are quiet after authorities warned residents not to go outside.
George Manjgaladze, Tbilisi Resident, said, "I have never experienced such heat in my entire life, this is a nightmare. The only way to survive is with cold water."
The hot weather is expected to continue in Georgia for the next few days.
Other cities in Russia and Poland continue to be gripped by a heatwave. In some areas, temperatures soared to 35 degrees Celsius.
The most popular seaside resorts in Poland saw an influx of tourists.
Polish Resident, said, "I'm with my granddaughter but not for too long, because it's very hot."
But some still have to work.
Bus Driver, said, "It's hot, hot, because the temperature in the cabin is around 60 degrees Celsius."
Local government has warned the very young and old of the danger. It's advised people to drink plenty of water, and stay out of the sun.
Editor:Zhang Pengfei |Source: CNTV.cn