Watch Video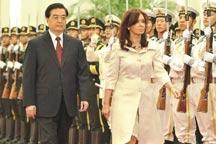 Play Video
President Hu Jintao has met with visiting Argentine President Cristina Fernandez Kirchner in Beijing. This is the first state visit by Fernandez since she took office in 2007.
During their meeting, Hu Jintao said the two countries should deepen their political relationship, increasing mutual understanding and trust. China is willing to work with Argentina to stabilize and expand the bilateral trade and investment, promote the two countries' trade and investment, pushing forward their cooperation on mining, traffic, finance, forest, herd, infrastructure construction and oil and gas exploitation.
China supports Argentina's importation to China. It welcomes more Argentina's enterprises and products to enter into China's market. China wishes to keep exchanges with Argentina in important international and regional matters.
Fernandez agreed with Hu Jintao's idea on further developing the two countries' ties. She hopes the two sides will expand their exchanges in culture and education. The two presidents later attended a signing ceremony on a joint statement and various cooperative agreements.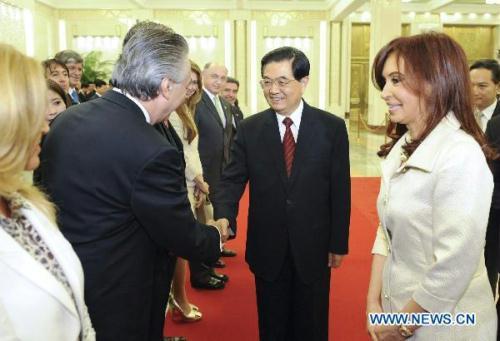 Chinese President Hu Jintao (C) holds a welcoming ceremony for Argentine President
Cristina Fernandez de Kirchner (R) in Beijing, capital of China, July 13, 2010.
(Xinhua/Huang Jingwen)