Watch Video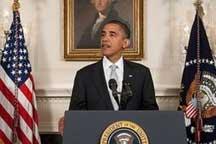 Play Video
U.S. President Barack Obama has praised the Senate over its breakthrough on the financial reform bill and says, he hopes to sign the bill into law next week. The President, also introduced the his next White House budget director.
After Democrat Senator Ben Nelson of Nebraska announced he would vote 'yes' on the bill, it gave US President Barack Obama the 60 votes necessary to prevent a Republican filibuster or delay.
Obama expressed his appreciation for some Republican lawmakers' support for this bill.
Obama said, "Three Republican senators have put politics and partisanship aside to support this reform and I am grateful for their decision as well as all the Democrats who have worked so hard to make this reform a reality."
The legislation, which cleared the House of Representatives on June 30, is applauded as the most ambitious rewrite of financial regulations since the Great Depression in the 1930s.
It aims to curb Wall Street's high-risk practices blamed for the global economic meltdown of 2008, solve the systemic risk of the "too big to fail" problem among financial firms, and create a consumer protection agency to better protect Americans.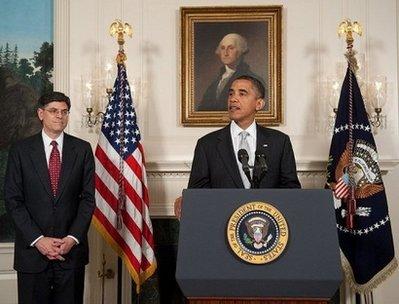 US President Barack Obama speaks alongside Jacob Lew (L), his
nominee for director of the Office of Mangement and Budget (OMB),
during the announcement in the Diplomatic Reception Room of the
White House in Washington, DC. Obama Tuesday hailed a "breakthrough"
in his laborious effort to pass sweeping Wall Street reform, after
Democrats apparently lined up the votes to pass the landmark bill.
(AFP/Saul Loeb)
In the same statement, the president announced Deputy Secretary of State Jacob Lew will become the Director of the Office of Management and Budget.
Lew produced a surplus over three consecutive years while working for the Clinton administration. He will now try his hand at reducing a federal debt of 13.1 trillion U.S. dollars.
Related stories
Editor:Zhang Jingya |Source: CNTV.cn