Watch Video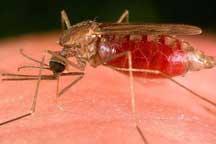 Play Video
Every year there are 250 million cases across the world and nearly 1 million deaths according to the World Health Organization. As the summer holiday season gets into full swing, it is necessary to know how to prepare and stay safe when travelling to malaria-prone countries.
News that pop star Cheryl Cole is being treated in hospital for malaria has swamped entertainment headlines and celebrity magazines.
It's thought the singer contracted the disease during a trip to Tanzania.
This summer thousands of tourists will spend their holiday in areas where malaria is present.
The disease is caused by the parasite Plasmodium, which is transmitted via the bites of infected mosquitoes.
The parasite multiplies in the human liver, infecting red blood cells.
Symptoms appear seven days or more after the infective mosquito bite.
Early symptoms can be mild and could be confused for the common cold or flu. They include fever, headache, chills and vomiting.
If not treated immediately, malaria can progress to severe illness often leading to death.
Dr. Chris Okumu, General Practitioner, said, "I do advice tourists travelling to the tropical world to start taking prophylactics on the eve of their travelling and they will continue with their drugs as long as they are in the tropical world.
Approximately half of the world's population is at risk of malaria, according to the WHO. In 2008 it was present in 108 countries and territories
Most cases occur in sub-Saharan Africa, where one in every five childhood deaths is due to the effects of the disease.
Asia, Latin America, the Middle East and parts of Europe are also affected.
Related stories
Editor:Zhang Jingya |Source: CNTV.cn