Watch Video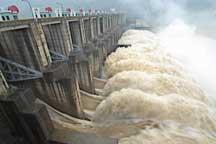 Play Video
China's weather authority expanded the orange alert for rainstorms this afternoon as it predicts 9 provinces and Chongqing municipality, will experience torrential rains on Wednesday.
The flood-battered areas have been battling almost continuous rainstorms since June. Flooding and landslides triggered by the heavy rains have burst river banks, cut roads and rail links, and caused dikes to collapse during the past week.
Major efforts are underway to prevent Huang-gai Lake on the provincial border between Hubei and Hunan from flooding. One-hundred-and-10 thousand people live near the 187 thousand hectare body of water. Nearly four days of torrential rain have created a dangerous situation along its shores.
Heavy rain has been falling in Tong-cheng city for several days. On Monday morning, dykes failed in two villages in the region forcing an evacuation. As flood waters poured into the villages, soldiers rushed to relocate local residents. The roads have been destroyed by the flood, and the rescue trucks can hardly get through. About 140 thousand people have been affected by the flooding.
Jian-li County in Hubei Province is China's top rice producing region. However, record rainfall has caused severe flooding in the area seriously damaging tens of thousands of hectares of rice fields.
Houses and ponds have also shared the same fate as flooded cropland.
To reduce losses, some pond owners extended their net barriers. All the pumps in the county, big or small are running around the clock.
The Flood Control Authorities said by this morning, heavy rain since July 8 has affected 19.2 million people in regions along the Yangtze River, leaving 51 dead and 77 missing. The State Flood Control and Drought Relief Headquarters says keeping water levels in major streams and lakes along the Yangtze River safe will be its top priority.
Editor:Zhang Jingya |Source: CNTV.cn