Watch Video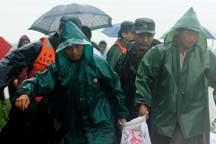 Play Video
Continuous heavy rain has been falling in east China's Anhui province, killing two and affecting up to two million people. More than one million hectares of crops have been destroyed. Across the province, seven cities and 29 counties are affected. River and reservoir levels are rising fast, with many hitting their danger limits. Several relocation and rescue operations are underway.
The downpours are the heaviest in a century.
In Anqing, total rainfall exceeded 290 millimeters. Several residential communities are flooded by 3 meters of water, stranding 12 thousand households.
Rescuers have to use canoes to help the residents. Those living on the lower floors have been evacuated. Others higher up, stay in their homes, waiting for rescuers to bring them food and drinks.
In Chizhou, a cleanup operation is underway to clear roads and expressways submerged under floodwaters.
Meanwhile in Tongcheng City, local authorities are set to blow up a leaking dyke on a swollen branch of the Yangtse River, to divert flood waters away from villages.
They were scheduled to begin the project yesterday afternoon. But the plan was postponed when the explosives were damaged by flood waters.
Sandbags are also in place along the Qingcao riverbank, to slow the flow of water through the 200 meter breach.
Local forecasters predict more heavy rain in the area over the coming days.
Editor:Zhang Jingya |Source: CNTV.cn