Watch Video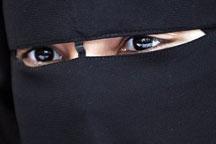 Play Video
The French lower house of the parliament, the National Assembly, has passed a bill with majority support to ban burqa-style Islamic veils in public. It's part of a concerted effort to define and protect what is called French values that has disconcerted many in the country's large Muslim community.
335 legislators voted for the bill and only one against it.
The legislation forbids woman wearing full-body and face-covering veils in any public places and calls for 150 euros fines or the offender can take a citizenship lesson.
The bill is also aimed at husbands and fathers. Any male violator, if convicted of forcing a woman to wear the burqa, would face a fine of up to 30 euros, and one-year prison.
Proponents say face-covering veils don't square with the French ideal of women's equality or its secular tradition.
Jean Francois Cope, President of the UMP Group in the National Assembly, said, "We have shown by this law, by forbidding the way to wear burqas, that there is a deep contradiction between the fact to wear the burqa and the values of the republic."
One Muslim woman said, "I think it's everyone's right to do want they want to do and as for the burqa, if they have problems with it, maybe they should have a lady police to see the identification. That is what happens in the Arab world. We also have problems from the burqa for identification."
A few dissenters are concerned about civil liberties and fear of fanning anti-Islam sentiment. Legal scholars say the law could be found unconstitutional. Some women are also against it.
Kenza Drider, Muslim woman, said, "I will never change my life for anything in this world. I will keep my veil. The government can accept my decision or not, I am not going against the law. But if they fine me, I will turn to Human Rights in the name of my freedom."
Officials insist the law against face-covering is not discriminatory because it would apply to everyone, not just Muslims.
But, France's highest administrative body, the Council of State, says neither French secularism nor concerns about women's equality, human dignity or public security could be legal justifications.
Editor:Zheng Limin |Source: CNTV.cn