Watch Video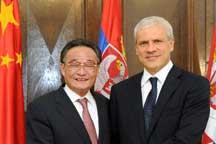 Play Video
China's top legislator Wu Bangguo, has met with Serbian President Boris Tadic. During the meeting, Wu hailed bilateral ties, and stressed China and Serbia should strengthen cooperation on infrastructure construction and investment.
Wu, arrived in Belgrade on Wednesday afternoon for a three-day visit. He's the first NPC Standing Committee chairman, to visit Serbia.. over the past decade. Tadic, said developing relations with China is one of Serbia's priorities. The Serbian leader, also expressed appreciation of China's support on the Kosovo issue, and reaffirmed that Serbia, will firmly adhere to the one-China policy.
Wu, also held talks with Serbia's Parliamentary Speaker, Slavica Djukic Dejanovic, signing six documents on cultural and trade cooperation. Wu, also attended a groundbreaking ceremony for a bridge in Belgrade, to be built with Chinese assistance.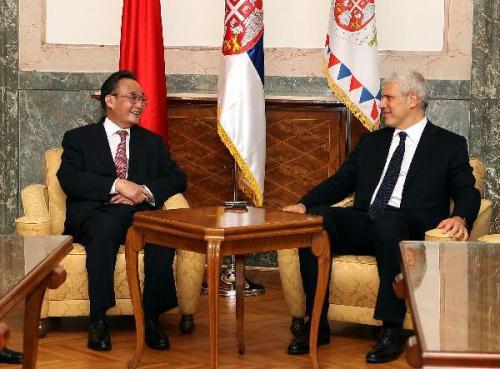 Wu Bangguo (L), chairman of the Standing Committee of China'a National People's
Congress(NPC), meets with Serbian President Boris Tadic, in Belgrade, capital of
Serbia, July 14, 2010. (Xinhua/Ju Peng)
Related stories