Watch Video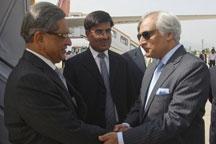 Play Video
India's Foreign Minister S.M. Krishna has arrived in Islamabad for peace talks with his Pakistani counterpart Shah Mahmood Qureshi. It will be the first time the two officials have met since the 2008 Mumbai terror attacks.
S.M. Krishna is leading a 15-member Indian delegation on a three-day visit to Islamabad for bilateral talks aimed at exploring ways to restore trust and confidence.
Krishna will meet with Pakistani Foreign Minister Shah Mahmood Qureshi on Thursday to try and pave the way to resume the peace process. The leaders will discuss all issues of mutual interest and concern, particularly terrorism.
Krishna will also meet with Pakistani President Asif Ali Zardari and Prime Minister Yusuf Raza Gilani.
S.M. Krishna, Indian Foreign Minister, said, "I am carrying with me a message of peace and friendship from the people of India and we hope to undertake this voyage of peace, however long and arduous, jointly with the government and people of Pakistan."
Krishna describes his visit as important, as it marks a new beginning of journey to build a prosperous, friendly and cooperative relationship between the two countries.
Meanwhile, Pakistan says it will enter into the talks with an open and positive mind.
Abdul Basit, Spokesman of Pakistan Foreign Ministry, said, "We are approaching this meeting with a positive mind set and our expectation would be that, as a result of this meeting, our two countries engage in a sustained manner and in a process that is uninterruptable."
Peace talks between India and Pakistan were abandoned after the Mumbai attacks, blamed on Pakistan-based Lashkar-e-Taiba group.
But, contact between the neighbors has intensified in recent months in response to pressure from the US for reducing tensions in the region.
Editor:Zhang Pengfei |Source: CNTV.CN