Watch Video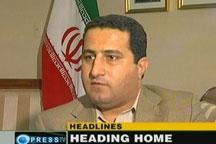 Play Video
Iranian scientist Shahram Amiri is currently on his way home from Washington to Tehran.
Iran claims, the CIA kidnapped him a year ago to get intelligence on their nuclear program. But, the US says Amiri was in the States on his own free will.
Iran's Foreign Ministry says Shahram Amiri is expected to arrive in Tehran on Thursday.
Iran claims the CIA kidnapped Amiri, who worked for Iran's Atomic Energy Organisation. Washington denies abducting Amiri, but would not say why he was there.
Iran says it will pursue the case of Amiri's abduction through legal means.
Hassan Qashqavi, Iran's Deputy Foreign Minister, said, "Naturally he and his family are entitled to pursue their legal rights as the main psychological sufferers of this incident."
Amiri disappeared while on a pilgrimage to Saudi Arabia in June 2009. He or copycats have surfaced in on-line videos, but has otherwise remained out of sight. That was until he turned up at the Pakistani Embassy in Washington on Monday, asking to be sent home.
This forced the Obama administration to make its first public statement.
Hillary Clinton, US Secretary of State, said, "Mr. Amiri has been in the United States of his own free will and he is free to go."
The mystery surrounding Amiri has fueled speculation that he may have passed information about Iran's nuclear programme to US intelligence.
Related stories
Editor:Zhang Pengfei |Source: CNTV.CN