Watch Video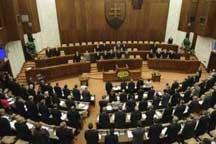 Play Video
The Slovak parliament will meet on Thursday to debate the European Financial Stability Facility, that would oblige it to help indebted euro zone partners. To date, the country has been refusing to bail out richer euro zone members.
Slovakia is still dragging its feet over its contribution to the eurozone's rescue fund.
Bratislava has said it will not block the EU.
But Finance Minister Ivan Miklos said the country had to honour its election promises not to bail out richer EU members.
Ivan Miklos, Slovakian Finance Minister, said, "We will first inform our coalition partners because it is a serious and sensitive issue which has a lot of dimensions and we have to say that today we are in a situation where we can choose only from bad solutions."
Miklos is known as a fiscal hawk but is expected to submit to the EU proposal on Thursday.
Slovakia is the euro zone's poorest member and is opposed to using slim resources to help better off countries.
Bratislava is the last hurdle before the EU's safety fund can be finalised.
Slovakia's parliament will have the final say on the 4.5 billion euro worth of guarantees it will have to agree to.
Editor:Zhang Pengfei |Source: CNTV.CN