Watch Video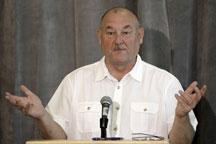 Play Video
BP starts a much-anticipated pressure test on a cap at its leaking oil rig in the Gulf of Mexico.
Retired Coast Guard Admiral Thad Allen said a closer analysis of the test and its possible ramifications, reinforced his confidence it would not exacerbate the leak.
Thad Allen, Retired U.S. Coast Guard Admiral, said, "And at this time we'll be releasing an order to BP to proceed with the well integrity test, but we gave them some additional direction and we did this to make sure that we were taking due care and in some cases an overabundance of caution to make sure we didn't do an reversible harm to the wellbore as we proceed forward."
The six to 48-hour test will entail shutting in all leaking crude to gauge its pressure. BP and Allen have repeatedly said they don't know if the April 20 blowout damaged the pipe, or casing, and cement in the Macondo well.
Allen said he is pleased with their latest developments in containing the spill. But he doesn't want to raise any hopes that the well can be completely shut off. BP is moving forward with increasing oil-capture capacity with four vessels on the water's surface later this month.
Editor:Zhang Pengfei |Source: CNTV.CN