Watch Video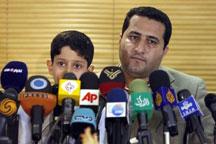 Play Video
The Iranian nuclear scientist, Shahram Amiri, has told reporters in Tehran that he was kidnapped by the CIA.
During his year long disappearance, Amiri claims to have suffered extreme mental and physical torture at the hands of US interrogators.
Amiri arrived in his hometown of Tehran early on Thursday morning.
His latest claims add a twist to a puzzling series of events, that have left Iran and the United States providing starkly different stories.
In his interview with reporters, Amiri insisted he was abducted in the Saudi Arabian city of Medina by the CIA. He says that he was later drugged.
Shahram Amiri, Iranian nuclear scientist, said, "I was abducted in the city of Medina in front of my hotel by CIA and Saudi intelligence agents. I was taken to an unknown location in Saudi Arabia. They gave me an injection which made me unconscious, and then transferred me to the US on a military plane."
Furthermore, according to Amiri's account, he was psychologically tortured by CIA agents.
Shahram Amiri, Iranian nuclear scientist, said, "Within the first two months, I was subjected to fierce mental and psychological torture by agents and interrogators from the CIA. "
In a complete rebuttal of the story, the US says Amiri was a willing defector, who later changed his mind and decided to board a plane home.
Amiri has dismissed the US position.
Shahram Amiri, Iranian nuclear scientist, said, "I have documents and evidence that show I was never free there. I was not allowed to make a call or talk to anybody. I was under control of CIA armed guards the whole time."
During Amiri's disappearance, Tehran repeatedly raised the issue with the U.S. government. It received no information, until the Iranian scientist resurfaced on Tuesday in the Pakistani embassy in Washington, demanding return to Iran.
The Iranian Foreign Ministry said it will continue its investigations into Amiri's abduction.
Editor:Zhang Pengfei |Source: CNTV.CN